This feature is provided as an extension service. If you ae interested in this service, please contact our support at events@myia.systems.
After activation of the service, you can see a cogwheel icon in the upper right corner of the Message board.

After clicking on this icon the application displays a window where you can switch on displaying multiple message walls.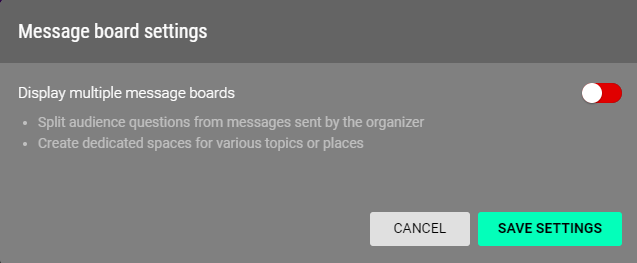 If you enable this feature, you can create and modify the message boards.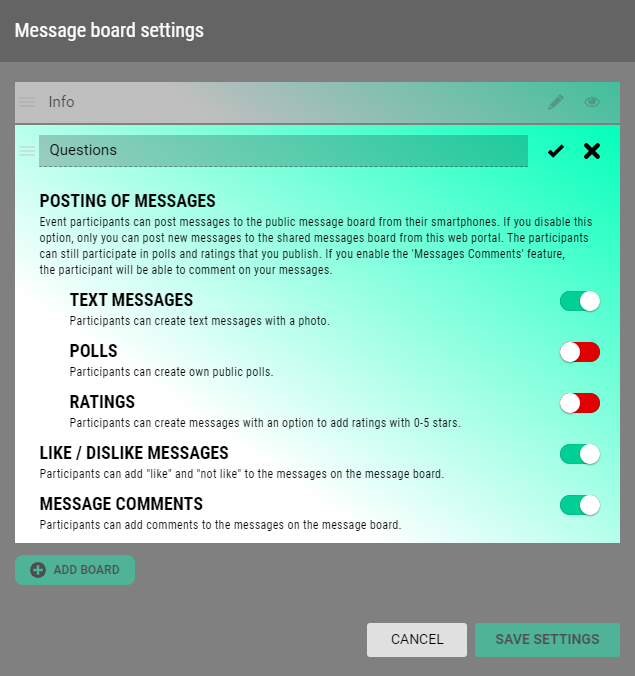 If you click the Pen icon you can change the properties of the message board – the name of the message board and how the attendees can use it, ie., what type of messages they can post on the board, if they can comment on the messages and if they can add likes.
If you click the Eye icon, you can hide the message board, i.e. the message board will not be displayed in the mobile app.
Tips for working with the message boards
Use short and clear names for the message boards, e.g. Info, Q&A, Discussion
The mobile app can display 3 to 4 message bords at the same time depending on the length of the names. Always test in advance how the message bords would align to the mobile phone displays.
You can prepare several message boards in advance and hide them. During the event always show only the message boards that are relevant at the moment.
Examples of settings:

Information from organizer: disable the possibility for attendees to post any kind of messages. Keep the option to comment and like. Only the organizer will be able to post messages on this message board with the web administration application. The attendees will be able to react on the posted messages.

Questions: allow the attendees to post only text messages, comment on them and give likes

Discussion: enable all features for this message board